June Interview with A2Ethics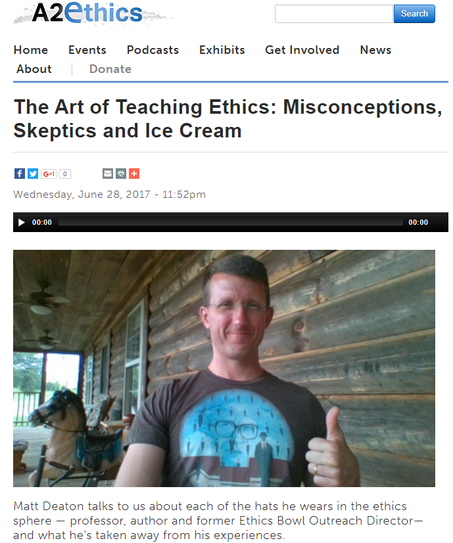 Had a great time discussing why philosophcial ethics is compatible with religious moral reasoning, my forthcoming book on artificial wombs, ethics bowls, and lots of other stuff with my friend Jeanine DeLay and Shoham Geva at A2Ethics in Ann Arbor.
I know of no other organization doing such innovative work in applied ethics outreach -- really big fan of these folks.
For the full podcast click
here
. And if you like the cool John Rawls t-shirt I'm wearing, check out philosophy graduate student Renee Bolinger's wearable art
here
.
---
New Ethics in a Nutshell Website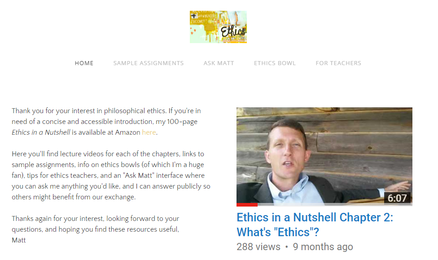 ​
​With links to YouTube vids on each chapter, sample syllabi, exam, discussion and quiz questions for teachers, an "Ask Matt" interface and stuff on ethics bowls, this new website for my
Ethics in a Nutshell: The Philosopher's Approach to Morality in 100 Pages
is offered as a resource for ethics professors, teachers, students and ethics bowl enthusiasts.
Check it out at
EthicsinaNutshell.org.
---
Midlife Crisis Fighting Challenge Complete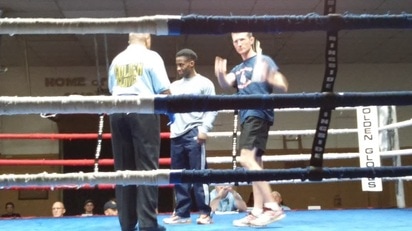 A longtime martial arts enthusiast, in March of 2016 I competed in my first boxing match at the East Tennessee Golden Gloves in Knoxville. Under the tutelage of Golden Gloves champion Jesse Byers at Monroe County Boxing Club in Madisonville, I was honored to receive "fight of the night" honors with an opponent almost half my age (watch the full fight
here
-- thanks for the great match, Denzel!).
A month later my second fight ended in victory in Johnson City, and at the end of June I competed in my first kickboxing bout with assistance from James, Matt and Scott at Ogle's Martial Arts, also in Madisonville.
I retired shortly afterwards with a record of 1 win, 1 loss and 1 draw, but what a cool run. If there's something you've always wanted to do, stop thinking about it and DO it -- if you need some extra encouragement, shoot me an email at matt (at) this website.
---